REQUEST A
FREE
CONSULTATION
*Loans provided by EnerBank USA, Member FDIC, (1245 Brickyard Rd., Suite 600, Salt Lake City, UT 84106) on approved credit, for a limited time. Repayment terms vary from 24 to 132 months. Interest waived if repaid in 365 days. 18.10% fixed APR, effective as of July 1, 2018, subject to change. Interest starts accruing when the loan closes.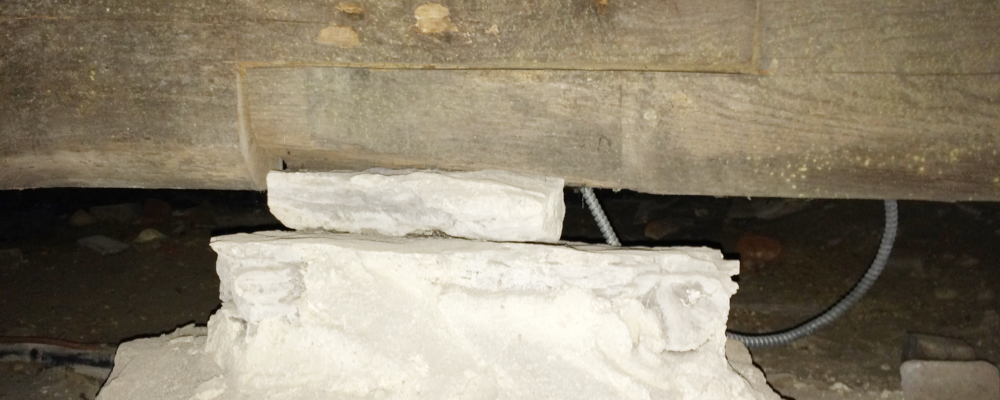 CRAWL SPACE STABILIZATION
Are you struggling with uneven floors? Are you struggling with sagging floor joists? These are often signs of rotting floor joists or problems with your column supports. You definitely don't want to have problems with the columns supporting your home. There are a number of causes for uneven floors and sagging floor joists. Joists and columns can become weakened due to excessive moisture being present in the crawl space. The floors above the crawl space may exceed the weight capabilities of the current posts. The final cause may be poor construction when the crawl space was first installed. If you have any of these issues you definitely want to work with our experts to offer you only the best crawl space repair services.
At Area Waterproofing & Concrete we have more than 10 years experience offering exceptional crawl space stabilization services. We have the expertise to serve you by getting the job done on time and within your budget. We depend on our PowerPost system for the best permanent crawl space stabilizing the solution. Say goodbye to your sagging or uneven floors. Our system has tremendous weight support capabilities, prevents sagging floors, and will ensure structural stability for many years.
If you let these problems go unchecked it will result in more severe and more expensive problems in the future. Let us take care of your crawl space problems once and for all. Our stabilization services paired with our crawl space encapsulation services will fully protect your home and protect you and your family from any hazardous conditions that could occur. We work with you based solely on your needs to solve the problems you are facing, or to install services that ensure you and your home won't have to face crawl space issues again.
Don't settle for less than the best. There is no other company in Wisconsin with our level of commitment, experience, and excellence that can help make your home a safer, and a more wholesome place to live. Call today for a free estimate from our team of waterproofing, foundation, and concrete professionals.
Area Waterproofing & Concrete provides free inspections to homeowners and businesses in Madison, Chilton, Appleton, Green Bay, Green Lake, Oshkosh, Fond du Lac, Sheboygan, Oconto, Wautoma and other surrounding cities in Northeast Wisconsin.
Prevents sagging and uneven floors by repairing floor joists

Ensures your crawl space has the weight capabilities to support the above floors
Prevents moisture from getting into joists when paired with our encapsulation services

Safer and healthier home for you and your family